The Matrix Machine Corp Story:
Matrix Machine Corp manufactures the highest quality, American-made Bridge Saws, Fabrication Centers, Tilt Tables and Equipment for the Stone Industry. Also providing parts and servicing for all your Matrix Stone Machinery needs.  Matrix Machine Corp provides everything Matrix customers could ever want - with a professional and friendly attitude.
Matrix Machine Corp, originally Matrix Machine Techs, was created after the unfortunate closing of Matrix Stone Products. Brian Peterson, son of the co-founder of Matrix Stone Products, worked engineering, designing and supervising all aspects of Matrix Stone Products for over twelve years. His dedication to the industry and to service Matrix customers continued in the form of Matrix Machine Techs. We have since incorporated into Matrix Machine Corp.
We have a large manufacturing facility in Glendora California and continue product development and improvement on an on-going basis. Matrix Machine Corp is dedicated to customer service an GUARANTEES the prices on parts and service.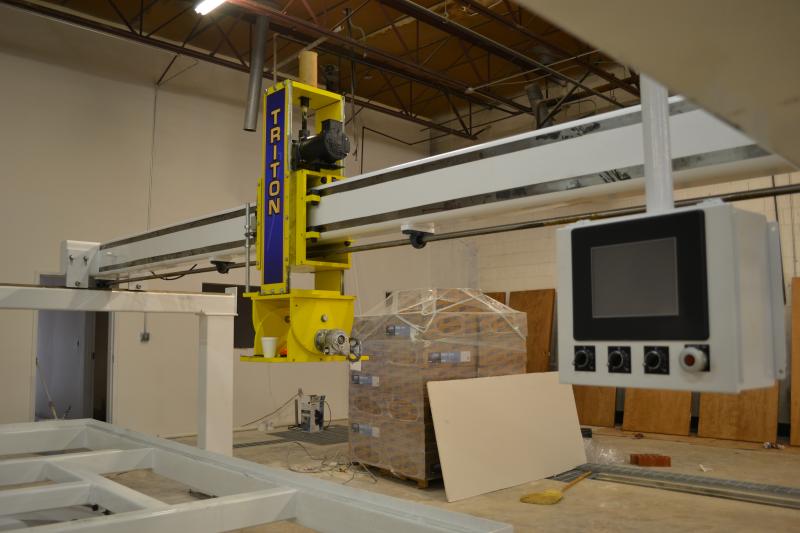 Custom made machinery, crafted right here in the United States
Multiple machines readily available to order
Experienced technicians to answer all your important questions
Over two decades of quality assurance and customer service
The Matrix Name you have come to know and trust
Matrix Machine Corp is dedicated to customer satisfaction and GUARANTEES the lowest prices on parts and service. We make our custom machinery right here in the United States, standing by the high quality of our products. Call or email us for all your Matrix needs! We look forward to earning your trust and business!  - BRIAN PETERSON, Owner
The Matrix Guarantee
Proudly Serving You in 3 Ways!
Matrix Machine Corp has a dedicated 3 stop process to ensure the highest quality servicing for all our customer's needs. We have the right staff, the right equipment and the right attitude to get the job done right..the first time.
Custom Machinery
From design to finished product, Matrix Machine Corp creates the highest quality of Stone Fabrication Machinery. New or Custom, whatever your setup needs are, let us know and we will find a solution.
Replacement Parts
Matrix Machine Corp's powerful e-commerce store is driven to servicing the precise needs of our loyal customers. We have easily obtainable parts IN STOCK for all our products.
Quality Service
With the Purchase of many of our great machines, you will receive dedicated training and quality service. Our qualified technicians are experienced and waiting for you.